Identify the full range of parasite diseases in Koi Carp and other fish
A web site owned and maintained by Brunel Microscopes Ltd

Photography

Slides & Coverslips

Dissecting equipment

Objectives & Eyepieces

Measuring

Slides from Fish Parts


There are several ways in which both still images and video clips can be obtained from any type of microscope. There are four main approaches.
Digital SLR cameras (including bridge cameras)

Microscope streaming cameras

HDMI cameras

Mobile phones
The options below relate to the microscopes described in this web site. Should you have a different model then contact us for advice.

To be able to attach a standard camera to a microscope it has to be possible to remove the lens (SLR, bridge,4/3rds etc). Compact cameras, with just a very few exceptions cannot be attached. The microscope then becomes the lens system for the camera back. This needs an adapter that attaches to the microscope at one end and to the camera back via what's called a T2 ring (specific for your camera make e.g. Canon, Nikon, Olympus etc) at the other. We are used to making things fit. The difference in prices for each microscope reflects the 'things' needed. Should you order these online from our shop you will be asked for the make of your camera for the correct T2 ring at the checkout.
SP21 Photography adapter and T2 ring Price: £33.75 + vat
SP35 Photography adapter and T2 ring Price: £45.83 + vat
SP52 Photography adapter and T2 ring Price: £43.33 + vat
SP22D not needed because the camera is built in
SP100 email us as it can be complicated mail@brunelmicroscopes.co.uk
Microscope Digital Streaming Cameras



Brunel Eyecam - an ingenious little camera no bigger than an eyepiece that simply fits into either eyetube in place of the eyepiece (or into a trinocular tube). Complete with software (Windows only). There is some reduction in the field of view, but the software allows still images, videos and measuring.
Price: £60 + vat


Brunel Digicam - these are an improvement on the Eyecam particularly with a better field of view. This is because they need a CCTV adapter with a reducing lens to give an image similar in size to the one seen down the microscope. However this does come at a price.
Price: £169.17 + vat


HDMI Cameras - these cameras do not need to be attached to a computer. They will show images directly onto a monitor or TV and the images or videos can be saved onto an SD card in the camera itself. There are even models that auto focus. If this sounds interesting even with a minimum price of £250 then it is best to email us. mail@brunelmicroscopes.co.uk
Mobile Phones - there are dozens and dozens of microscope mobile phone adapters on the Internet. This usually means than none of them are particularly good, but we think we have got pretty close to perfection if that's possible. Most of the others rely on getting the phone camera sat on top of the microscope eyepiece. Our Phonelink replaces the eyepiece of the microscope with our own optical system. This might mean a little more cost but the results are far better. Suitable for any microscope, and as far as we can tell for all mobile phones including those with multiple camera lenses.
Price: £63.00 + vat

Inevitability as time goes on you will need replacement slides and coverslips. These are not too expensive, The slides come in packs of 50 and the coverslips (because they are easier to break) in packs of 100
Slides: Price £3.33 + vat
Coverslips 22 x 22mm: Price £2.50 + vat


If sadly things are not successful then a post mortem examination may reveal the cause of the problems.
Dissecting Kit Price: £18.33 + vat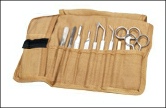 The SP21, SP35 and SP52 are supplied without x100 objectives because we feel that without this the microscope has the better magnification range for the application for fish didease.. If however you do think you need a x100 oil immersion objectives they are here and would fit the SP21, SP35 and SP52 supplied complete with immersion oil
x100 Objective SP21, SP35 and SP52. Price £28.33 + vat
x60 Objective SP21, SP35, SP52 and SP22D. Price £24.17 + vat
x15 Eyepieces - all models. SP35 and SP52 obviously need two. Price £18.33 + vat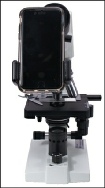 Measuring items in slide preparations can be helpful for several reasons. This can be done by using a special eyepiece that has a scale etched in it - a graticule eyepiece. In order to calibrate this scale for the different magnifications of a microscope a stage micrometer is needed which is a real scale etched onto a microscope slide. Instructions on how to do this are provided.
x10 Measuring eyepiece: Price £24.17 + vat
Stage micrometer: Price £24.17 + vat


Brunel Microscopes Ltd, Unit 2 Vincients Road, Bumpers Farm Industrial Estate, Chippenham, Wiltshire SN14 6NQ

Prepared slides from Fish Parts
It is not technically possible to prepare permanent slides of the common parasites that can infest fish such as costia and trichodina because they do not survive the process. However this set of slides would be of interest to add to the general knowledge and understanding of fish structure. The slides include fish gill, fish scale whole mount, fish blood, fish skin, fish heart and fish intestine. All appropriately stained.
Price £10.00 + vat